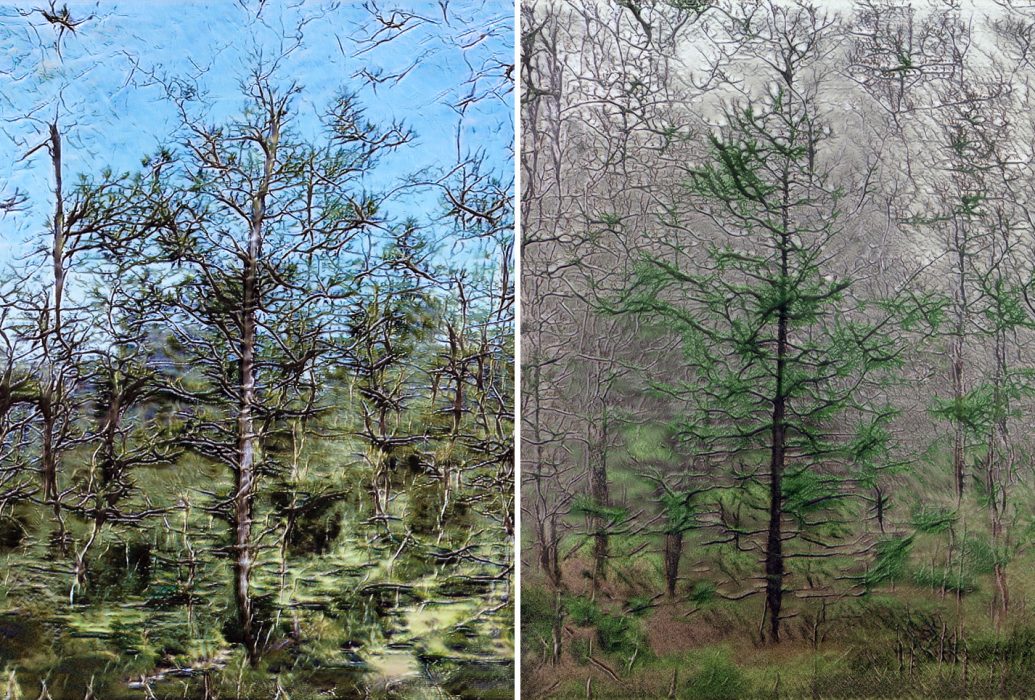 Machine generated images.
Screenprints, 76 x 104 cm, CMYK.
Grafted trees.
Installation with B/W letterpress print on newspaper; mixed wood fibre materials; animation 3:00 min.
Press release for the two-part exhibition Skogsaken (The Forest Case) at Entrée and Trykkeriet, Bergen, Norway:
In the project SKOGSAKEN (The Forest Case), Toril Johannessen combines forest history with new image technologies. She looks at how notions of proximity, distance and coexistence with nature and technology affect each other, by examining nature representation filtered through technology. With Bergen´s local history as backdrop and artificial intelligence as optics, the project explores how nature is shaped and mediated.
The forested city mountains around Bergen bear witness to a particular part of Norwegian afforestation history. The establishment of The Nature Park, 150 years ago, took place at a time when the forests in Western Norway and elsewhere in the country were in poor condition after vast harvesting and grazing pressure. Targeted tree planting in the mid-1800s was a national project to make forestry more long-term. The idea of "clothing the mountains of Bergen", which was Bergen Forest and Tree Planting Company´s main objective when they established in 1868, arose in part from resource shortages and the idea of nation-building, but also had to do with aesthetic preferences, as the forest landscape was preferable to the "grey and bald mountains," which at that time dominated the landscape around the city. Today the "forest case" in Norway is mainly concerned with forest management, industry and outdoor life. Also, we see paradoxes arising between concerns and measures for global climate change, and local preservation of nature and environment.
Johannessen, in collaboration with software developer Sindre Sørensen, has started training a machine-learning tool to generate images of new "hybrid" species and forest landscapes, using thousands of her own photographs from the forested urban mountains as raw material. The machine-learning tool used for the project is StyleGAN, an open source image generator where two so-called artificial neural networks work together. This approach can in principle generate an infinite number of new images, which change character as the neural networks learn. Johannessen makes use of printing techniques such as photopolymer and screen-print in new works created from extracted snapshots of this training process.
With the invention of printmaking, art changed forever, and mass-produced etchings and woodcuts democratized the access to, and consequently increased the audience for art. Artists discovered the possibilities of the Renaissance techniques early on – and furthermore used them in creating the very first pure representations of landscapes, where nature was the primary content. Representations of landscapes were early on linked to the construction of national identity and consciousness. In parallel with these representations of nature, the need arose to control and shape nature and to create our own landscape.
After the Enlightenment, the image of a single weather-beaten tree and the mighty magnificent forest expressed the idea of elemental "nature". The more recent understanding of the forest as a network in which the trees communicate with each other, perhaps represents a form of nature romanticism of our time. In Johannessen's project, associations intersect between nature's networks and artificial intelligence, suggesting connections between man-made landscapes, the representation of nature and image technologies.
Software developer: Sindre Sørensen, www.sedb.no
Printing, letterpress: Dino Dikic / UBÅT Press
Printing, screen prints: Asbjørn Hollerud and Daniel Persson
Printing assistant: Sam Alyoussef
Grafting: Lars Korff Lofthus
Thanks to Bergen Skog- og Træplantningsselskap.
The project is supported by Norsk Kulturfond and Billedkunstnernes Vederlagsfond