On 3 February 2022, the Norwegian prime minister gave a speech at UiT The Arctic University of Norway in Tromsø (1). In this speech he presented a revision of the policy for what in Norwegian is termed nordområdene, often referred to in English as the High North, a concept that is crucial to Toril Johannessen's series of prints titled Presence (2022–23).
Even if nordområdene can be conceived as a geographically delimited region referring to an area north of the Arctic circle on the European side, it is primarily a discursive concept that has been used in Norwegian foreign policy parlance since the 1970s (2). In the nordområde policy presented in Prime Minister Støre's 2022 speech, key topics included the green transition, sustainable food, welfare services, knowledge-driven politics, and infrastructure. His final argument was, however, that nordområdene is the government's most important peace project. Knowing that Russia's invasion of Ukraine happened only two weeks after Støre's speech, the militarized rhetoric of the nordområde policy has become more apparent than ever.
On the day of Russia's invasion of Ukraine, Toril Johannessen found herself in Kirkenes in Northern Norway, close to the Russian border, at the annual Barents Spektakel. This is a festival of art and culture that highlights issues related to the High North in general and the Barents Region in particular. Johannessen was there to conduct initial research for a KORO-commissioned public art project for Evenes Air Station, a military installation that operates as a forward operating base for combat aircraft and the home base for maritime surveillance aircraft in Northern Norway (3). While Johannessen was in Kirkenes to learn about the impact of nordområde policies in the region, for the project that would later be titled Presence, Russia invaded Ukraine.
The invasion had a huge impact on the programme of the Barents Spektakel festival, which was originally due to take place on both sides of the border. For Johannessen, the invasion intensified her focus on the realpolitik aspect of the principles of deterrence and reassurance that are crucial to Norway's security policy vis-à-vis Russia (4). In preparation for taking on the public art project for Evenes Air Station (that opened this year), Johannessen had spent time reflecting on these concepts mainly in a philosophic manner – suddenly the policymaking played out before her eyes.
Mapping and mapmaking are at the core of Presence. The series consists of six screen prints in the form of maps representing different areas or spaces that geographically relate to nordområdene and that visualize data gathered by the artist through various mapping methods, such as the analysis of policy documents, archival research and the collection of information from oral sources. By adopting the aesthetics of standard maps, Johannessen's work immediately seems familiar to us, but the carefully added handwriting, the painted and drawn elements, and the use of several individual rubber stamps underscore the unique quality of each map and work to destabilize their conventional authority. For those who look carefully, the content of each map slowly reveals itself and the first impression of the image is changed.
Locating the High North takes the form of a circumpolar map of the Arctic and is an attempt to trace how the geographical delineation of nordområdene has changed over time, according to Norwegian policy documents, social science publications, and public debate. A collection of unofficial nicknames referring to localities that indicate historical as well as contemporary military presence in Norway's two northernmost counties, Nordland and Troms og Finnmark, are presented in Colloquial place names linked to military activity.
The prints titled I! and WE! refer to the map of Nordkalotten , which is a geographically and politically defined region originally containing the northernmost parts of Norway, Sweden and Finland, as well as the Kola peninsula in Russia (5). This region also constitutes (the main part of) Sápmi – the Northern Sámi name for the traditional homeland of the indigenous Sámi peoples. Given its transnational nature, the term Sápmi transcends the border-centred discourse of nordområdene. In parallel, Johannessen's mapping of differences in the use of languages and dialects in the region, represented in the maps by the many ways of saying and pronouncing the pronouns "I" and "we", shows that the overall language situation surpasses the borders of nation states. For example, several Finnish languages are spoken across the whole region.
While Colloquial place names linked to military activity and I! and WE! direct attention towards the presence of a multivocal civil society, the more abstract and poetic works titled Sensor Prohibition Areas & species observations and Visual field & human-made clouds focus on entanglements between politics, technology, materialities, and environments, including more-than-humans and humans. Sensorforbudsområder & artsobservasjoner/Sensor Prohibition Areas & species observations creates a schema that represents Evenes Air Base and the surrounding area. The layered image is composed of shapes that indicate zones where filming and photography from the air are prohibited, and dots that signify observations of different species in the area, such as birds, animals, plants, and insects.
In Visual field & human-made clouds, Johannessen places herself within the picture. Based on her own observations of aircraft contrails over Evenes and a study mapping the limits of her own field of vision, Johannessen has created an abstract image that, like Sensor Prohibition Areas & species observations, has a dissolving quality. The work not only addresses the constraints of the artist's perception, but directs our attention to humans' inability to access a diversity of perspectives and knowledge. Science and technology studies scholar Donna Harraway`s normative-critical concept of situated knowledge is relevant in this context (6). Through the concept of situated knowledge, Haraway argues that all knowledge is situated, and that every insight about the world bears remnants of the time, place, and subject that produces it (7).
In an article from 2003 titled Cartography is Dead (Thank God!), the American artist and geographer Denis Wood describes the wrongdoings of cartography (8). It has "played a significant role in making the world safe for colonizers, mining conglomerates and the military", he states (9). To realize the urgency of mapping and mapmaking, Wood argues that we must look beyond the rather new discipline of cartography. By embracing the multiplicity of mapping and mapmaking practices developed by artists and visionaries, as well as minorities and indigenous people, it is possible to rethink the white, male, and European view that has dominated the discipline of cartography, he says.
Johannessen's work relates to tendencies within artistic practices referenced by Wood. Particularly from the 1970s onwards, a variety of counter-mapping (10) strategies have been used by numerous artists and academics to question ideas of neutrality, reveal power structures and repressive ideologies, address the social dimension of maps, and produce new awareness about or direct attention towards already existing knowledge systems, as well as enabling democratic access (11). One example is the book project Nonstop Metropolis: A New York City Atlas (2016) edited by geographer and writer Joshua Jelly-Schapiro and writer Rebecca Solnit. Taking the map of New York's subway system as a starting point, the book tells the story of the city through the mapping of riots, music, queer culture, faiths, mother tongues, playgrounds, and complaints, among other characteristics (12).
The Sámi artist Keviselie/Elle-Hánsa/Hans Ragnar Mathisen's maps, which question the established norms of maps representing Nordkalotten, are another example. In his famous Sábmi/Sápmi (1975), covering the traditional settlement areas of the indigenous Sámi peoples, the Sámi place names are (re)inscribed and the border constructions of the nation states that divide Sápmi into different territories are ignored. As in Mathisen's work, Johannessen directs attention towards the use of language and the relationship between concepts, names, and territories. Rather than imposing answers to the questions Presence generates, the series of works illuminates the entanglements of politics, technology, materialities and environments, including more-than-humans and humans, and initiates reflections on the effects of the nordområde policy, not only at the level of realpolitik but also at a micro- and macrocosmic scale.
(1) The speech can be found here: https://www.regjeringen.no/no/aktuelt/statsministeren-holder-tale-om-nordomradepolitikken/id2899124/ (read 23.10.2023).
(2) Torbjørn Pedersen & Odd Gunnar Skagestad, En nordområdepolitikk om alt – eller ingenting? Internasjonal politikk, Issue 78, Number 4, 2020, pp. 490–499.
(3) KORO is Norway's national body responsible for curating, producing and activating art in public space. For more information about Evenes Air Station, see the Norwegian Armed Forcess' web page: https://www.forsvaret.no/om-forsvaret/organisasjon/luftforsvaret/nye-evenes-flystasjon (read 23.20.2023).
(4) Ole Marius Tørrisplass, Deterrence or reassurance? Determining the appropriate Norwegian response to a
more unpredictable Russia, MA-Thesis, Bodø: Nord universitet 2017.
(5) Until the Russian Revolution in 1917, the Kola Peninsula was included in Nordkalotten.
(6) Donna Haraway, Situated knowledges: The Science Question in Feminism and Privilege of Partial Perspective. Feminist studies, Volume 14, Number 3, 1988, pp. 575–599.
(7) Brita Brenna, From Science Critique to New Knowledge Practices? In Ericka Engelstad and Siri Gerrard (Eds.), Challenging Situatedness. Gender, Culture, and the Production of Knowledge. Delft: Eburon Academic Publishers 2005, pp. 27–42.
(8) Denis Wood, Cartography is Dead (Thank God!). Cartographic perspectives, Number 45, Spring 2003, pp. 4–7.
(9) Wood, 2003, p. 7.
(10) The term counter-mapping was first introduced by American Sociologist Nancy Peluso in her article Whose Woods are These? Counter-Mapping Forest Territories in Kalimantan, Indonesia. Antipode, Volume 27, Number 4 1995, pp.383–406. When compared to traditional maps, counter-maps represent alternative forms of mapping.
(11) Christine Schranz. Shifts in Mapping – Maps as Tool of Knowledge. Bielefeld: Transcript Verlag 2021.
(12) Paul Reyes, Joshua Jelly-Schapiro & Rebecca Solnit: Mapping the Story of New York. The Virginia Quarterly Review, Volume 93, Number 1, Winter 2017, pp. 22–25.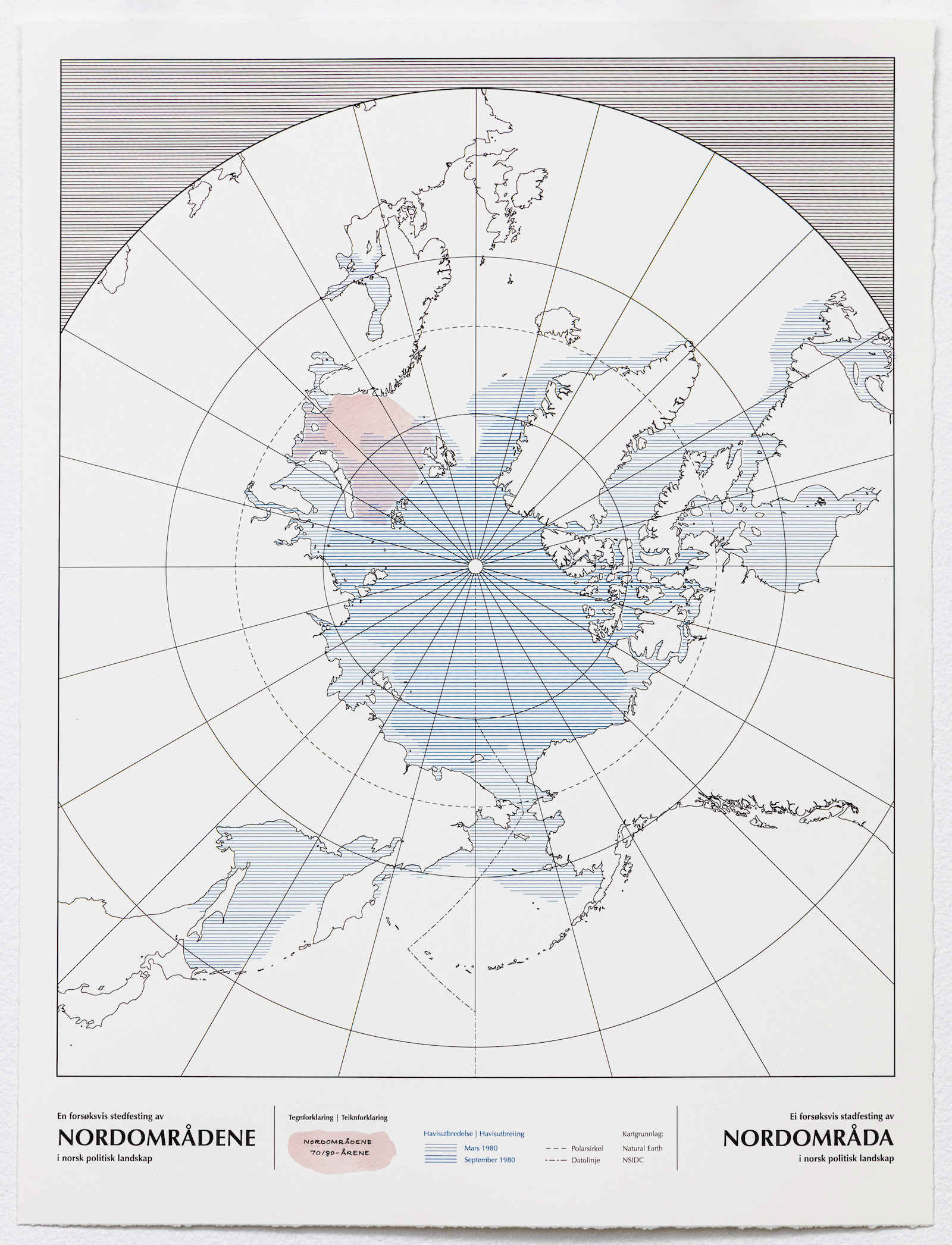 Hanne Hammer Stien is an Associate Professor at the Academy of Arts at UiT The Arctic University of Norway. Her field of interest encompasses photo history and photo theory, museological and curatorial questions, and contemporary art. Stien has a curatorial practice and has been a regular critic for Billedkunst. She is a member the artistic advisory board of the Lofoten International Art Festival (LIAF), the artistic advisory board of the new government building complex in Oslo, the board of Nordic Art Review, and Mađđi – Romsa Kunsthall. She is also a member of the board of research and development at the Arts Council Norway. Stien co-heads the research group Worlding Northern Art (WONA), UiT, and is taking part in the research project Urban Transformation in a Warming Arctic (URBTRANS), UiT/UiO.
This text was written for the exhibition Tilstedeværelse / Presence at OSL Contemporary, Oslo, November 2023.