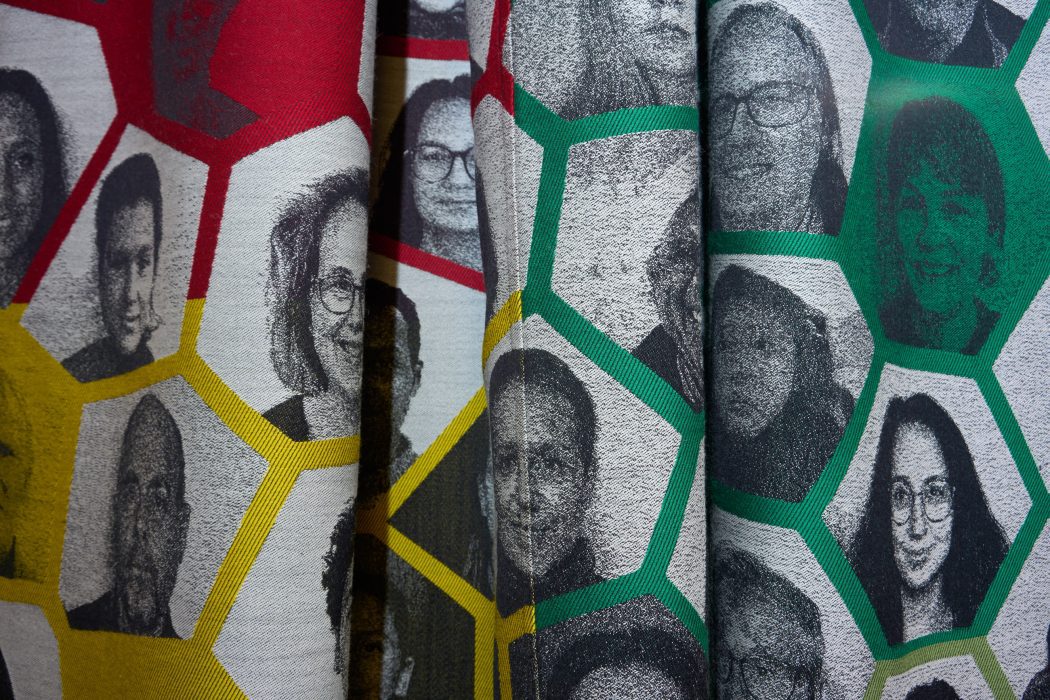 Weave with computer generated images based on portraits of people in Bergen.

Digital jacquard weave, wool. Work in two parts, dimensions H348 x W762 cm, and H300 x W1100 cm.



Permanent installation at Bergen City Hall. Commissioned by the City of Bergen.
Representation (for people and those who represent them) is an artwork made for Bergen City Hall. The work consists of woven textiles with a design including computer generated portraits.
The work is permanently installed in two locations in the building: One part is a draped carpet installed in a glass vitrine by the main entrance of the building. The vitrine is integrated in the facade and is publicly available at all times. The other part is installed in two meeting rooms on the top floor where the work can be seen by employees, politicians, bureaucrats and others who visit this part of the building. Here, the work has a function as curtains. When the curtains are closed, the design is displayed in its entirety.
The data generated portraits in the design are made by machine learning technology and a specific collection of photographs as source: Through the image collection campaign titled Gruppebilde Bergen I collected portraits from residents in Bergen. The campaign took place in the Fall and Winter of 2020/2021 and was an open call to the people in Bergen to submit a portrait of themselves. The portraits were collected by contributors' own online submissions, and by photo events at libraries, shopping malls and cultural centres. The purpose was to collect images of a wide range of the city's population in a data set that was used to train a software to generate similar, but not identical, images for use in the artwork.
The 900 computer generated portraits reproduced in the two parts of the artwork carry traces of the original 900 portraits submitted by people of different ages, genders, colours, hair styles, facial expressions and other visible variations. In this way, the work is a form of group image and a symbolic presence of people of Bergen at the City Hall.
Bergen City Hall, designed by architect Erling Viksjø and completed in 1974, reopened Summer 2022 after four years of extensive rehabilitation. Representation (for people and those who represent them) is a commission for City of Bergen on the occasion of the rehabilitation project.
Thank you to all collaborators and to all of you who contributed your portrait to the project!
Contributors and collaborators:
Image contributions:
900 Bergen residents

Software developing:
BEK – Bergen senter for elektronisk kunst / Espen Sommer Eide, bek.no
SEDB – Sindre Sørensen, sedb.no
Digital jacquard weaving:
Kristina D. Aas for Innvik AS, innvik.no
Tailoring:
Siv Støldal
Assistant (tailoring and installing):
Sofie Hviid Vinther
Mediation assistants (Gruppebilde Bergen):
Daniela Ramos Arias
Naomi Niyo Bazira
Christa Mako Teigen
Illustrations (Gruppebilde Bergen):
Liv Ragnhild Kjellman
Public photo shoots for Gruppebilde Bergen took place at:
Bergen Offentlige Bibliotek: Hovedbiblioteket, Fana bibliotek, Landås bibliotek, Loddefjord bibliotek and Åsane bibliotek
Batteriet Vest-Norge and Krohnhagen Kafé
Bergen Internasjonale Kultursenter
Bergen Storsenter
Åsane Storsenter
Lagunen Storsenter
Det Akademiske Kvarter
Entrée Bergen
Commissioner:
City of Bergen
Art consultant:
Arne Rygg
Read the original open call for Gruppebilde Bergen here: bek.no/gruppebilde
See documentation from the process at Instagram and Facebook